Call that a mullet? – Editor
Recently, I asked my hairdresser if he took a lot of mullet requests from the youth of Ipswich. 'Yes,' he replied, 'a fair amount.' I then enquired as to his view of this impactful hairdo; his comment was unequivocal… 'I think they look shocking, to be honest.'
Last week's analysis of RHS' finest neck-warmers will, in just a few years, be looked on with a mixture of disbelief and despair. As we all know, the motions of fashion are circular; none were more bemused by the emergence of the mullet as a must-have hairdo than those of us able to recall its previous incarnation as a badge of honour for male celebrities of the 1980s.
If you are offended by this immoderate look, take comfort: RHS's little army of mulleteers has got nothing on today's historical assembly of horrendous hairdos.
Case 1 – Pat Sharp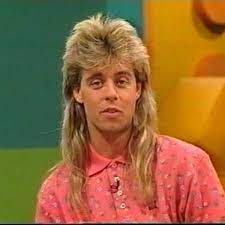 This isn't Sharp; it's silly. Toby commented last week that one of our resident mulletistas could smuggle a rodent in his barnet, well a beaver could build a dam in this one and the owner be none-the-wiser. Pat Sharp was host of children's TV classic 'Fun House' at the time, but there is such a thing as too much fun, as Pat's diabolical cascade proves.
Case 2 – Andre Agassi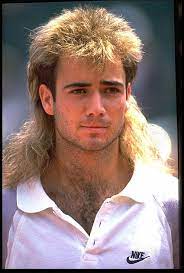 Having the finest return of serve ever seen on a tennis court is no excuse for this human fox tail. Agassi's drastically receding hairline as his career went on suggests that this mullet may have been a classic example of a hair coverage compensation scheme. Perhaps balding members of the teaching staff should take note.
Case 3 Chris Waddle
One of the most talented midfielders in English footballing history, we can blame an extended spell living in the south of France for this terrible hybrid of flat-top and mullet. Memorably, it was Waddle whose spot-kick miss in the World Cup semi final shoot out against West Germany broke English hearts. He skied it. As the ball rocketed into row Z of the upper tier, we were all left to ponder what might have been had the weight of that mullet not decimated his lumbar strength during the 80s.
World Cup 1990 – Waddle's Penalty – YouTube
Case 4 – Billy Hargrove
He's a fictional character, but Billy Hargrove is the very essence of 80s excess. This nihilistic home-wrecker also teaches us an important lesson about shocking hairdos: a great tan and smoking-hot torso covers up a multitude of sins.
PS – Stranger Things returns for a new series tonight on Netflix, in case you hadn't heard…