Prefect Thought of the Week #8 – Flo Balmer
Flo Balmer tells us about some important lessons she learned from the recent MUN conference in Oxford
I have spent the last weekend with nine other RHS sixth form students on a MUN Conference at Oxford university. This morning, rather than delivering the original thought that I had planned, I'd like to touch upon a couple things that I took from the experience.
A quick bit of background, this conference hosted students from all over the world, China, Spain, India, to name just a few and took place in the city of Oxford over three days, starting on Friday morning. I met and talked with students from all other the world and hence I'd like to take this opportunity to remind us all of the enormity of our planet and all of its problems and our response to this.
The topics discussed at the conference included that of my own committee, the militarisation and future of global cooperation in space, as well as subjects such as the denuclearisation of DPRK and the position of ISIS, to tackling cross border crime in Southeast Asia. In the nature of MUN, each student represented a country and debated their topic, the overall aim to be finding a solution. The vast array of countries delegates represented, some of which I hadn't even heard of, and the large number of issues discussed truly challenged me.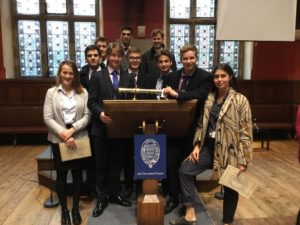 Some of these things I wasn't aware of prior to the conference and the fact that these are pressing issues that affect the lives of many people, in a catastrophic way, as well as my experience of exploring the thriving and bustling city of Oxford, made me feel rather insignificant. I am pleased about this; I think many of us, primarily myself have very narrow mind sets and believe that this school, our own exams and our lives are so very important, but if I may I'd like to remind you all that we really aren't. We can choose to make ourselves have a more important role by engaging in these issues, whether it be through a career linked to politics or joining MUN at school, but until we do this and try to expose ourselves and recognise this, I believe it to be timely to remind us all that in such a huge world with so many citizens and so many problems, we must look beyond ourselves and at the issues around us and perhaps behave in accordance with these. This may sound slightly brutal to you all, but there is simply not point moaning and we have no right to do this until we do something about the issues we are moaning about.
I am not naïve enough to believe that on such a large planet with so many people, these troubles can be resolved quickly or easily by any of us, but we cannot complain until that moment when we choose to engage in these things and we take it upon ourselves to make a stand for.