EAL Mini Sagas – Mrs Hodson-Langer
Mini saga competition
Recently Mr Coleman had the idea to challenge our EAL students to a mini saga competition. The task was to use no more than 50 words to respond creatively to the famous painting "The execution of Lady Grey".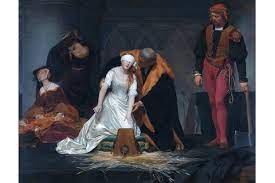 Using exactly 50 words to tell a story, let alone in a foreign language, is not as easy as it seems. Fortunately many students rose to the challenge and our judge, Mr Routledge, was left with the tough job of picking the winners…
Commended
Rebecca Klopstock, Y11:
She did not want to and yet she had to. She seized the crown. She became Queen of England.
Nine days later her death sentence would be pronounced. With white robe and blindfold she would be led into a room in Tower Green, in which her execution would take place.
Nick Wong, Y11:
First day at my new job.
Today is my first execution. When I came into the room, I saw a white-dressed woman and her relatives crying. I don't care. It's not my problem she is here. Once the priest had finished talking, I walked up to the woman and did my job. I think I did well.
3rd place
Max Blank, Y11
I'm just a block of wood, but what a story I can tell. There were times: One woman had stolen the throne from the queen. Finally the queen won and decided to execute her opponent: Lady Jane. I was the block on which she died – the last thing she saw.
2nd place
Moritz Leichtle, Y10
The Execution
I stood aside when it began. Her eyes were blindfolded and she knelt down. She whimpered one last time. Then I got up. Tension spread across the room. I whizzed down in a straight line. It went so fast that the servants and relatives only started screaming after the blow.
1st place
Alvin Kwok, Y11
This is not how I pictured my life as a blindfold. I sense fear, someone being terrified. The tears got me all wet. I was trying to help, but there's nothing I could do. Soaking up the tears we are both tied together in this situation. There is no way out.
While I enjoyed reading everyone's entry, I hope Mr Coleman will pick something less bloody for our next one. Also, Max is still waiting for the promised sweets, Mr Coleman.