Teacher Couple Interviews #4 'The Millingtons' – Molly Freeman
1.How did you meet?
Mr M – On a night out in Oxford. I was working as a bar manager. After finishing work one night my best friend Matt (who worked for the same bar company) invited me to come out. Matt introduced me to  Emma who was up visiting him. They had worked together while at university. After a few drinks,  Matt told me Emma was really interested in me. At the same time Matt's girlfriend was telling Emma I was really interested in her. We were both stitched up but it worked as a couple of weeks later we were  seeing each other… a lot.
Mrs M – Yup! Totally stitched up and still paying for it! No, we have a lot to thank Matt for. In fact, he is Godfather to Jack (our little boy).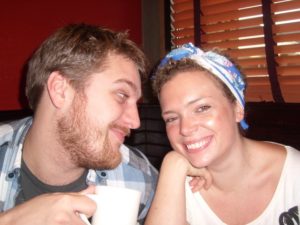 2. What is each other's worst habits?
Mr M – Not loading the dishwasher correctly, ruining my clothes when she uses the washing machine, never taking out the bin.
Mrs M – Not exercising and then, when he does, injuring himself!
Who does the most housework?
Mr M – I think Emma can answer this one.
Mrs M- I am very, very lucky!!
What was your best date?
Mr M – I can't really think of a best date but we do have a tradition of going  to a Michelin starred restaurant once in a while as it reminds us 1. We are a couple who really enjoy each other's company and 2. We both have a love of great food and wine. It is hard to find the time in the madness of RHS and life with two small children.
Mrs M – For me, the carpet picnic date when Mr M asked me to marry him!
 Would you send your children to RHS?
Mr M – Yes. I'd like to think that we are here long enough to send our children here. I love the fact that RHS produces such rounded students and there are so many opportunities here that I would love my children to have.
Mrs M – Although it seems such a long way off, as Jack is 5 and Evie is 1, I can see us still here when they are secondary school age and I would love for them to go to RHS.
What's the best part of working in the same place?
Mr M – Being able to have a morning break and lunch together, without either of us having to do a crazy commute like we had to in London.
Mrs M – I love the fact that we both understand each other's commitments and the added bonuses of no commute and the occasional lunch date!
What's the worst?
Mr M – Talking about work at home. We try to avoid it but it is sometimes difficult especially when you have had a crazy day and you just want to vent.
Mrs M – Totally agree!
What was the proposal like?
Mr M – I think Mrs M can answer this one.
Mrs M- My favourite thing ever is a picnic. I got back from the last day of the summer term and the inside of our flat was covered with candles and the most amazing carpet picnic!! After indulging in lots of delicious food and drink, Mr M popped the question. All made even more exciting by the fact we flew to India the following day to go backpacking for the summer.
What do you like to do as a family?
Mr M – Since moving out to the countryside we have started to do a lot of walks as a family which often end at a beach or a pub. Over the summer we try to have as many picnics or BBQs as possible. We are often seen picnicking with the kids in our garden after school in the summer term as our garden backs onto the path to Alton Water.
Mrs M –Having previously lived in London, we are relishing the outdoor space and the fact that we have so many beautiful walks right on our door step.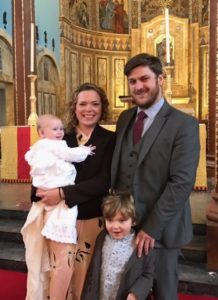 Anything you'd like to do together in the future?
Mr M- Pre- children we had both done a lot of travelling individually and together. It is something we love doing and hope to instil in our children. Our first backpacking trip as a family will be in the summer of 2019, where we plan to spend 6 weeks in Vietnam and Cambodia. This is something we hope to do every two or three years.
Mrs M- definitely more travel- Vietnam, Cambodia, Sri Lanka are all top on my list at the moment. Although we have a 24 hour journey to Australia this Christmas with a 1 year old and a 5 year old, which may put us off travelling with children ever again!