Met Gala 2021: Review/Roast – Izzy S
For those of you who don't already know, the annual Met Gala occurred earlier this month. Ahh yes, the event which doesn't do anything except from showcasing the horrendous attempts of fashion from people who most of us don't even know or care about . It seems like the most sensibly dressed at this event are seen as the 'outcasts' but the people who decide to wear wellies with meat draped all over them are normal?!
This year's theme was American independence chaired by some of Gen Z's accomplished stars such as Billie Eilish, Timothee Chalamet and tennis international tennis player Naomi Osaka. With a notable guest being British tennis star Emma Raducanu who won the US open a day prior . This theme brought about some questionable and crazy looks from well know designers with some critics suggesting that most outfits didn't comply with the theme at all. Personally, I have to say there was a spectrum of looks from mediocre and whacky attempts made in order to win public favour.
Here are a few of the most talked about moments of the night
Kim Kardashian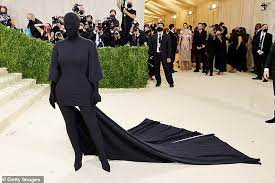 Kim is quite off topic with theme this year, it seems as if Kim has stumbled out from Azkaban only to find herself at one of the most prestigious fashion events of the year. I must admit though that I wasn't expecting this sort of outfit from her it was a real surprise.
Timothee Chalamet
For those of you who know me you'll know that I have an undying love for Timothee Chalamet. However, this outfit just wasn't it for me simply down to the fact that Timmy looks like he's just finished a shift at a little chef. The only thing to like about this outfit is the converse.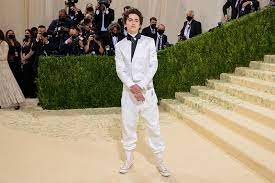 Lil Nas
Lil Nas looks like C3P0 's long lost brother from Star Wars with this look and leads me to believe that he should indeed be at Comic con or a Star Wars convention instead of the MET.
ASAP ROCKY
I don't know how this represents American independence but if I went to one of these events myself I would sure like to come in my duvet . You know what they say dress for comfort not discomfort.