Goals at Last! — Frankie Stenning
Straight back into the school week the Hockey 1st team were shipped of to Wyndham on Saturday. The long trek up to the opposition gave the girls time to settle and ready themselves for the game. It would be tough but not impossible. 
They got off the bus and began their warm up. 30 minutes later the whistle blew, signalling the start of the game. All of the players had adrenaline coursing through their body and a desire to win. The opposition came out strong and managed to nab a quick goal first to take the lead. This did not deter the RHS girls as they continued to battle on and managed to score a brilliant equaliser. It was looking good for the girls.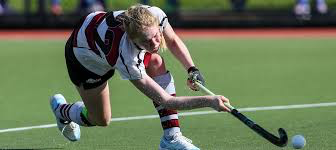 Wyndham then again went one goal up to take the lead after a game that was tough for both sides. RHS once again stepped up to the mark and brought the score to 2 all. It was a beautiful goal as Yasmin Gradwick-Light smashed the ball into the goal with Frankie Hughes deflecting it. This goal highlighted the skill of RHS's 1st team. No more goals were scored as both sides defensive tactics prevented a team from gaining any advantage. Tackle after tackle ensued. In the last few minutes of the game the RHS girls managed to make it into their attacking D and gained a short corner. This led to another corner as an opposition foot was hit on the way to the ball going to the goal. Sadly, the Wyndham defence managed to keep out an RHS goal with this gifted short corner. 
The game ended with a draw. The loss did not truly reflect the 1st team's ability within the game as they fought after every ball and tried to make up for any mistakes rather then allow their heads to drop. The half term holiday had allowed the girls to rest and re-energise themselves for these next few weeks. Hopefully these goals serve as a starting point for a successful half term.