THOUGHTS ON THE CHURCHILLIAN QUOTE – Mr Harvey
We all love a good quote.  Inspirational, ironic, funny or profound, there seems to be one for every occasion.  Visit any high street card shop and you will be confronted by an entire wall of mugs, placards, greetings cards, small cuddly toys and a multitude of other tat emblazoned with a few carefully chosen words which apparently point to a happier, healthier, wealthier life; all for around £1.99.  (Although, I did think the T-shirt proclaiming: "You put the 'fun' in 'funeral'" was slightly overpriced at £7.99.)  Here at RHS and in countless other schools and institutions across the nation, morning assemblies and chapel talks will often kick off with a pithy quote from a literary genius or intellectual goliath – it automatically adds credence and gravity to what is to follow, and gives us, the listener, that warm, fuzzy feeling that the speaker has done his or her homework on their chosen subject…  or merely Googled 'assembly quotes', of course.
The English writer Philip Gilbert Hamerton said in 1873: "Have you ever observed that we pay much more attention to a wise passage when it is quoted, than when we read it in the original author?"  Whether he intended this sentence to be quoted, we shall never know, but he makes a valid point, and it's not an unambitious legacy to want to leave behind a snappy soundbite for future generations to ponder over and to marvel at our unique perspective on life.  Actor, writer and comedian Spike Milligan's entire approach to life can be epitomised by the words on his gravestone: "Duirt me leat go raibh me breoite", or: "I told you I was ill" in Gaelic.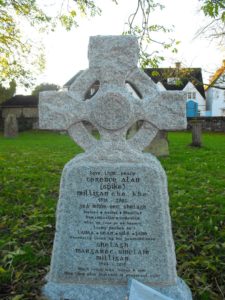 Former two-time Prime Minister and all-round Englishman Sir Winston Churchill was a prolific producer of quotes, and two of his more light-hearted offerings adorn a wall of my downstairs toilet at home, (although I must point out that they are there purely to amuse and not to provide inspiration.) I am semi-ashamed to say that I have been guilty in the past of judging a man not on the quality of his questions, as Voltaire recommends, but on the sheer volume of Churchill quotes he can recite.  If he can also do the voice, so much the better.  But why are the words of Churchill so appealing to so many of us?
Churchill's mother, Lady Randolph Churchill, was rather unorthodox.  Legend has it that she had a tattoo of a serpent eating its own tail coiled around her wrist, (quite unusual for 19th Century aristocracy), although no photographic evidence of this exists.  She dabbled in politics in an attempt to aid the careers of her husband and son, and is reported to have had more than the occasional extra-marital affair with some extremely high profile individuals – and when I say 'high profile', I'm talking Royalty.  She also produced her own plethora of quotes, and in amongst the usual moonpig.com musings on love, life and friendship is my favourite: "Italians love sun, sin, and spaghetti."  What fascinates me about this quote is that I can't, for the life of me, work out whether it's intended as an insult or a compliment, but the ability to pass judgement on an entire culture's meteorological preference, morality and lack of culinary diversity in so few words is surely worthy of admiration.  Reading this for the first time in 2016, you could be forgiven for thinking you had been unfortunate enough to stumble across Katie Hopkin's Twitter feed, (other small-minded attention-seeking bigots are available), and not the words of the mother of, arguably, the greatest leader this country has seen since Nelson.
That brings us on to the question of context – do Sir Winston's quotes hold more weight today because of who he was and the period in history he occupied?  If Kim Kardashian were to pronounce to the world, as Churchill did, that: "To improve is to change; to be perfect is to change often", would we detect the profound undertones of a changing world, emerging battered and bruised from a savage and inhumane global war, or would we simply assume she is referring to her latest buttock implants?  Churchill's quotes also possess that most enviable quality of making us laugh and nod knowingly even as he ridicules and demeans us: "The best argument against democracy is a five-minute conversation with the average voter."  As true then as it is today in the fall-out of post-Brexerendum Britain, but, actually, why should this quote be any less insulting to me, an unashamedly self-confessed 'average voter', than the Andrew Mitchell Plebgate affair, when the then Tory MP (allegedly) called a Downing Street police officer a Pleb for not allowing him to cycle through a pedestrian gate?  How much does a successful, acceptable quote depend on the personality and popularity of the quoter? If Mr Mitchell had said something along the lines of: "Sir, we are all worms, but I do believe I am a glow-worm," and then pedalled off through the gate on his penny-farthing puffing on a cigar, he may still be in a job.
Sir Winston was also prone, at times, to statin' the bleedin' obvious: "There is no finer investment for any community than putting milk into babies."  That pearl of wisdom was offered up in 1943, several million years after mothers of all mammalian species instinctively started putting milk into their babies.  But, being Churchill, we lap it up.
We are such Plebs…