RHS: House stereotypes… – Molly Freeman
At this time of year, when new students join the school, I thought the newcomers might be assailed with tips for schoolwork, how to combat homesickness or how to make the most of th many extra-curricular activities on offer here. So I am going against the grain and am going to give an insight into the stereotypes of the senior houses at RHS.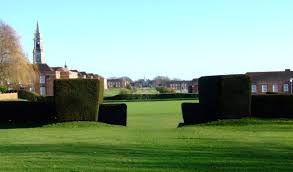 First up; Anson. Now I am not doing this because it is my house or because it is the best, but because it comes first in the alphabet.
Anson recently became a girls house (2013) and it quickly became the odd-ones-out house – this will make more sense once I have explained the other girls houses. Most Anson girls aren't the best at sport or academics, but we like to have fun. Leagues is a fun activity that lasts an hour on a Saturday and inter-house is where we like to show off our good players and fill the rest of the team up with willing volunteers. I think where Anson lacks in sports and academic competition, it makes up for in support and volunteering. Every girl in Anson will do something they really don't want to, be it a debate, public speaking or netball.
Collingwood: This is the boys house which typically wins everything. Inter-house sport, Collingwood wins. Debating, Collingwood wins. Quizzes, Collingwood wins. This may be changing, particularly since Sean Cuddihy's departure, but it is still a major stereotype. Collingwood are the boys, as they like to think. Very academic and very sporty, but also loud: clapping at assembly, Mr. Terry's famous BBQs, house shouts or Sunday Chapel, Collingwood are probably the loudest. I have also heard it claimed that Collingwood boys are chick-magnets, but you can make your own judgements there.
Cornwallis: This house has also recently been converted. Now a boys day-boarder house, Cornwallis is like Raleigh for people who sometimes can't be bothered to get the bus home. To some people it may not be a 'proper' house yet, but at least they're trying.
Hawke: Possibly the most sensible boys house. Hawke won the Bannerman for smartness and bearing (the only thing Collingwood didn't win). They too have their sporty individuals and of course their academics, but Hawke boys are also very disciplined in house and this may be why they won the trophy.
Hood: Sports. Sports. Sports. Very much a sporty house, they will probably win all if not most sports, including athletics. Like Collingwood, Hood is apparently romantically driven. They do like to partake in academic activities and usually do quite well.
Howe: The last girls house, also quite sporty and also quite academic. There is one stereotype that stood out when I asked people what they thought about Howe and that was 'the popular house'. For those who don't know, this means they are the 'it' girls; usually the most stylish and the ones everyone loves. Not only are they intelligent and sporty girls, they also have a large group of friends.
Raleigh: The day pupil house. Though they may only be on site 'part time', they still do quite well in sports and academics. Since the house is so big, not only is it rowdy, it is also hard to stereotype as every individual is different and all day pupils get put into the same house.
St Vincent: There were a lot of varied answers when I asked what people thought the stereotypes; however, the most common answer was that St V are 'the cheeky lads' – the ones who like to have a laugh and are maybe more laid back than in any other house. I have heard a few individuals from this boarding house being called "bone idle"; this may not be far from the truth, but it could just be a boy thing in general.
Nelson: I left this house out of the alphabetical order as it is very different. All of year 13 live in Nelson. It is hard to stereotype Nelson as it is one while year but they're are a few groups. The people who can't wait to leave school, they came here for grades and that's it. The people who say they can't wait to leave school but end up crying on the last day and secretly never want to leave. And the people who honestly never want to leave and even when they're gone they return for divisions or Sports Day.
Obviously, not all of these types will fit with every student in the school but these are generally what people think. Also stereotypes may have changed over time and may continue to change. I hope this gave some of the new people a better understanding but I realise none of this is gospel.