Why I'm doing the Great East Swim… again – Charlotte Heley
Once again the Great East Swim has come around. The majority of RHSians are already aware of what this entails, but for those of you who don't, it is a one mile swim in freezing cold Alton water, a large proportion of your time spent being kicked in the face by the swimmer in front. If you are Philippa Murrison, it may also involve swimming under a buoy instead of around it.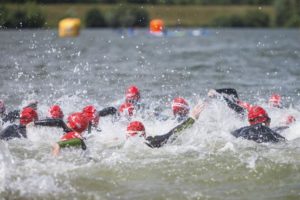 Despite this string of seemingly horrific events, it is an extremely fun race and it has tempted me back on more than one occasion. However, this year I have decided to do things a little differently. I will be racing in memory of my grandma, who sadly passed away a few months ago from cancer, supported in her final days by Macmillan nurses. As a result I have put together a fundraiser in aid of Macmillan Cancer Support to help those affected by cancer and their families. Eunice Heley was a wonderful woman, who had a remarkable love of cheese and an exceptional talent for making golden biscuits. She was selfless and kind, not only raising five children – my troublesome dad amongst them – but she also helped to raise fifteen grandchildren. In fact, her selflessness was even reechoed at her funeral, in which she had refused to have a eulogy, for fear of the day revolving too much around her. I hope that swimming this mile for Macmillan, will be a fitting tribute for this amazing lady.
Swimming the mile with me is my, somewhat, dutiful boyfriend, Joe Craggs-Ward, whom I have persuaded – or rather coerced – to race (given that Joe has not swum properly since the age of eleven, I use the word 'race' lightly). However, coming from nothing to swimming the full mile in open water conditions is no small feat; unlike the t-shirt suggests, "just adding water" does not make you an "instant swimmer". The training is tough, especially as Miss Marriott, the new swimming instructor, is an ex-member of the Leeds Uni team, so what Joe is doing is particularly admirable.
If anyone would like to sponsor us to raise money for this fantastic charity, please follow the link below. Even the smallest donation is much appreciated.
https://www.justgiving.com/fundraising/C-HELEY