The first Gig Night of the year took place on 12th November, including a varied range of rock, pop, and ballads. With incessant clapping coming from the Howe girls in the back corner in the middle of every song, sporadic phone light waving, and repeated suggestions (or should I say reminders) to deplete the bar of its drinks so that the music staff wouldn't have to lug it back to the music school, this year's Gig Night was certainly one to remember.
The night was opened by Jake A singing Roll With It (Oasis), completed with a full Liam-Gallagher-at-Knebworth cosplay – parka, sunglasses, stance, the lot. Other rock acts included Ned C singing Can't Stop (RHCP), and Izzy B who revived the spirit of pop punk with Sk8ter Boi (Avril Lavigne). Later on in the evening, Joe & co. performed R U Mine? (Arctic Moneys), which was a smash hit with the backstage club, who nearly blinded everyone whilst getting over-excited with the flashing lights – Katya, I'm looking at you.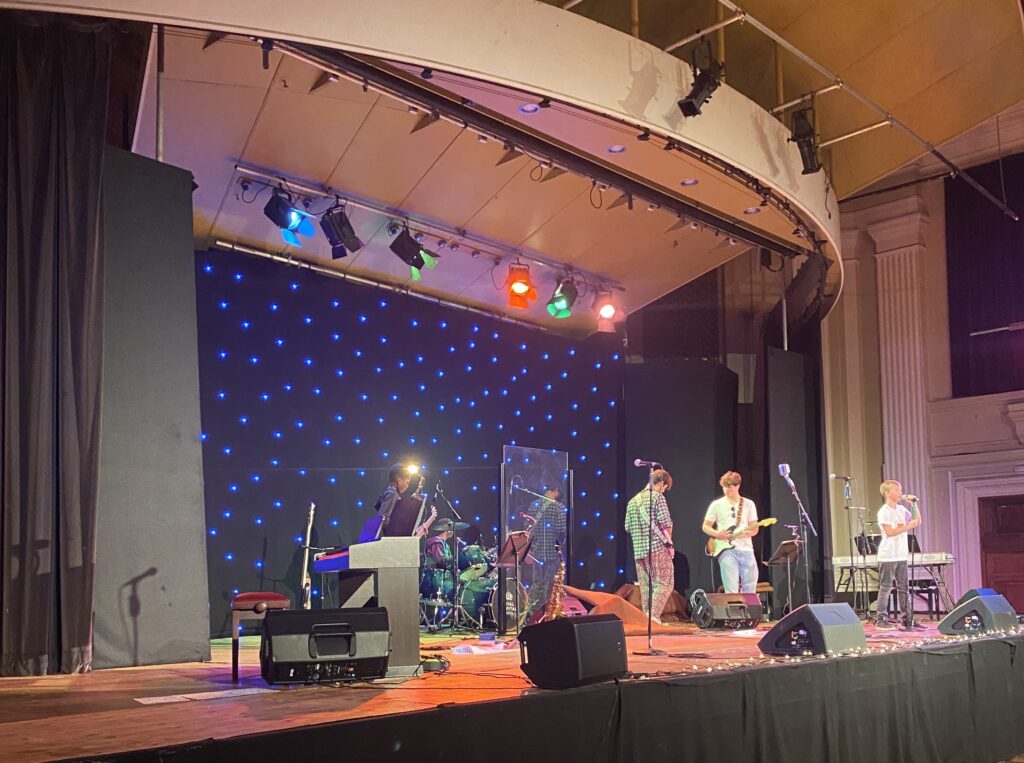 Power pop was also prominent in this year's Gig Night, with Imogen T singing Don't Speak (No Doubt), and Kiera W even adding a country twist with Before He Cheats (Carrie Underwood). The Bruno Mars theme also continued from last year, with Tan A-D, singing Grenade and Raphael O, performing When I Was Your Man. This was preceded by all the good girls go to hell (Billie Eilish), sung by Emily H, who was also playing guitar. Lydia M sang a passionate rendition of Mercy (Duffy), and returned with Scarlet A, to perform a duet of Survivor (Destiny's Child), accompanied by Carrie B on the violin. Scarlet also went on to emulate Amy Winehouse's style, performing Rehab.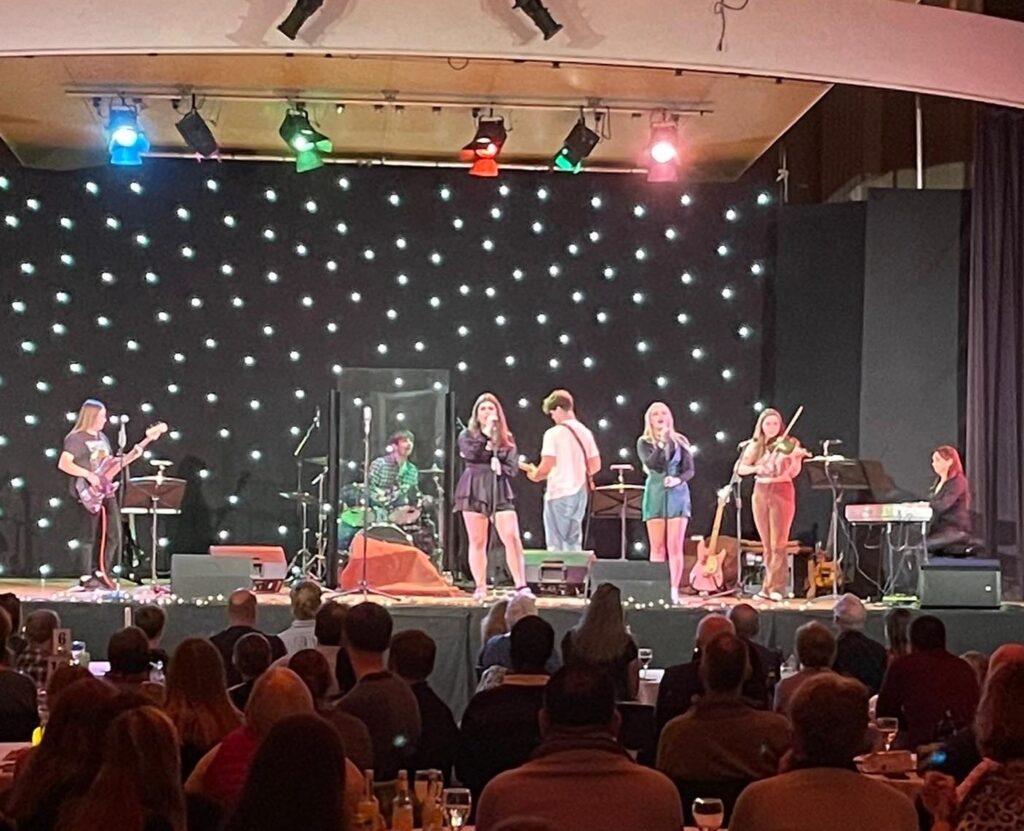 Georgina L gave us a blast from the past, singing Message in a Bottle (The Police), as did Daniel O, who sang Vienna (Billy Joel). Going back further in time, Jake A returned to sing It's Not Unusual (Tom Jones), accompanied by a brass section consisting of Jack E, Ed R and Oli C.
However, the night was well-balanced out with a few slower pop ballads too. Gaby O sang a sweet rendition of Fight Song (Rachel Platten) and was followed by Martha K, with a heartfelt performance of 1 step forward, 3 steps back (Olivia Rodrigo). Hebe M continued by singing Wings (Birdy) and Lacy F concluded the first half of Gig Night with a powerful All I Ask (Adele).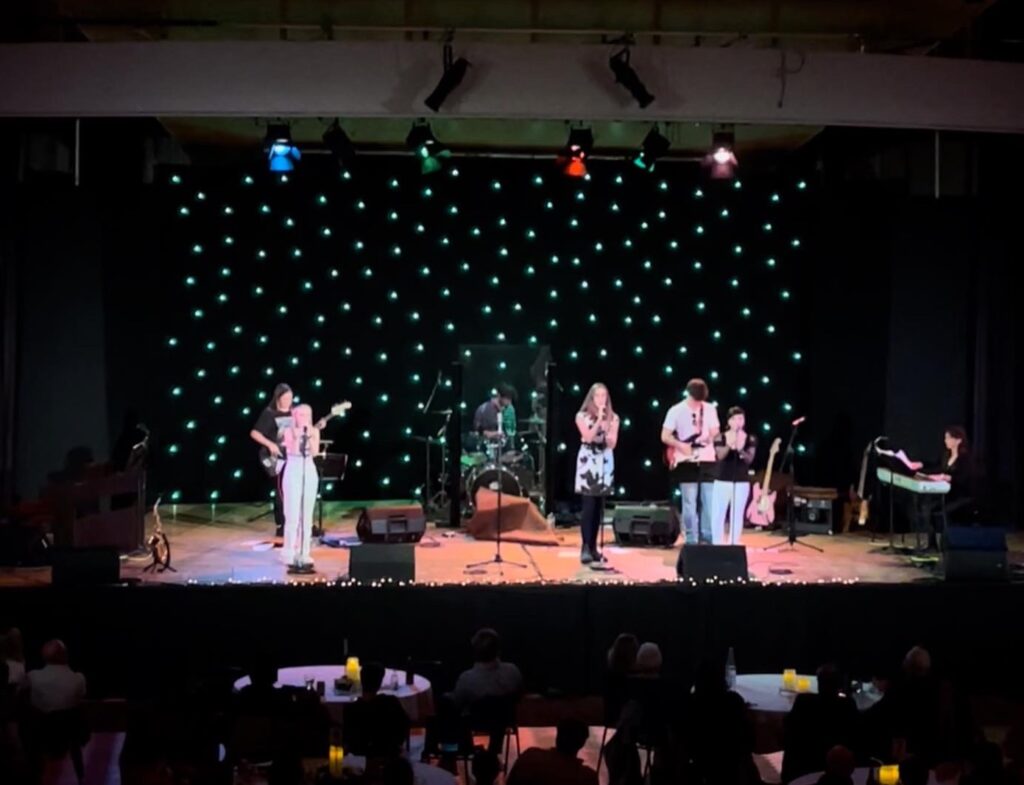 After the interval, Pop Choir sang an acapella Only You (Yahoo), which was followed by Sam F, who sang Impossible (James Arthur) – at this point the Howe girls had somehow convinced almost every single person in the hall to wave their phone lights around, which I was told was 'adding to the atmosphere'. Louisa S & Hannah S U sang a duet of Rolling in the Deep (Adele) and Ayoola O sang emotively with Rise Up (Andra Day). To top off the emotional ballads, Erin K sang Strange (Celeste), accompanied by both Carrie B and Johannes J on violin.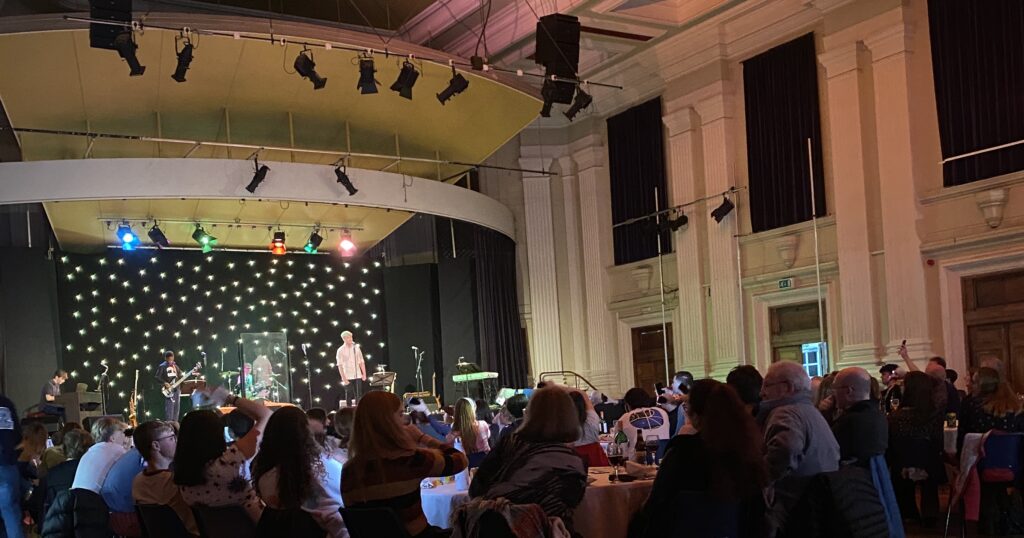 The night concluded with objectively the best song you could ask for to close Gig Night. After approximately 10 minutes of needlessley adjusting their instruments, followed by a shouted "Hurry Up!" from Mr Allen, the final song was underway: Say It Ain't So (Weezer), performed by Joe A, Tony A, Charlie R and Ed R.
'What a perfect end to Gig Night', Lucia and I said to eachother, making our way to the exit to go back house and crack open a cold Irn Bru.. or so we thought. All of a sudden, Jake A reappeared, ready to perform once again – this time with a perfect John Lennon imitation of Twist and Shout (The Beatles). We returned to our seats, the brass section returned to the stage, and the Howe girls resumed their clapping yet again – marking the end of 2022's November Gig Night. Onto the next!
All songs were accompanied by the house band, made up of Charlie R, Ed R, Lex A, Mia D, Lee O, Jameson H and Oli A-A – all organised by Ms Double.