Eurovision 2021: Greetings from Rotterdam! – Megan B
We've all been waiting long enough for the Eurovision Song Contest to return and on Saturday the time for the world famous final came back around once again. In 2020, the contest that was meant to be in Rotterdam, after Duncan Laurence's win in 2019, didn't go ahead due to Covid-19. However, after months of preparation a Covid-safe show in the Ahoy arena could go ahead with only 3,000 people compared to the thousands that we would normally see – similar to test events that have been seen in the UK.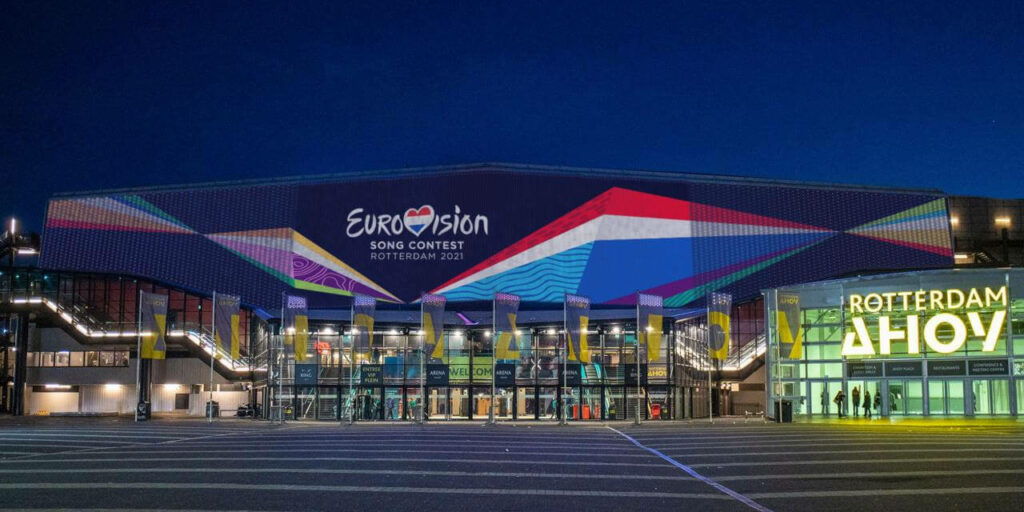 Semi Final Part 1: The first part of the competition included 16 countries where only 10 countries could qualify for a place in the final. Unfortunately, 6 countries did not make it including Croatia, Romania, Slovenia, North Macedonia, Australia and Ireland. The favourite from this part of the competition was Destiny with 'Je Me Casse' from Malta – an empowering feminist song encouraging women to fight back against sexual harassment and abuse. Ukraine was also a favourite with GO-A performing 'Shum' in an electro-folk style that represented the spirit of Spring.
Semi Final Part 2: The second part of the competition included another 17 countries where only 10 qualified. The countries that failed to qualify included Denmark, Austria, Estonia, Poland, Czech Republic, Georgia and Latvia. Despite not being able to be there due to a band member testing positive for Covid, Iceland managed to qualify with just their dress rehearsal video, proving their popularity with the voters – making them a favourite to win in the final. From this semi-final, other popular songs included Blind Channel with their rock number 'Dark Side' from Finland, and Gjon's Tears with his highly emotional song 'Tout l'univers' from Switzerland.
Grand Final: Joining the other countries were Italy, Germany, UK, Spain and France as they don't need to compete in the semi-final due to being the biggest financial contributors to the EBU (European Broadcasting Union). Germany took on a feel-good song 'I don't feel hate' which, at this time is a prominent message to everyone, Italy as a favourite brought the house down with their take on Italian rock and Barbara Pravi sung an emotional ballad 'Voilà' for France. The UK's dance song 'Embers' sung by James Newman was featured in the final and was popular within the arena yet not so popular with the viewers. The Final was filled with a mix of soft ballads and heavy rock yet the amazing work of The Netherlands to get the show up and running this year was a major feat in itself and they should be congratulated on their achievement. The show brought a sense of community back to Eurovision and the viewers brought the necessary joy to some people who felt that what they needed at this moment in time was happiness and love.
The Results: Though the competitors were far away in Rotterdam, the tension was noticeable as the results came in and were announced first by the jury of each country and then the viewer's votes. If you don't want any spoilers before watching the final then don't read ahead! Unsurprisingly, the UK came last with 0 points, quickly followed by Germany with only 3. As you can see from the scoreboard below Italy won the entire competition with firm favourites of the Semi-finals following behind. Italy's song "Zitte e buoni" performed by Måneskin won by a landslide proving that the viewer's votes can change everything. However, the song requires a musical taste of heavy rock yet the Italian language adds to its vibrance and I have to admit it is a firm favourite of mine.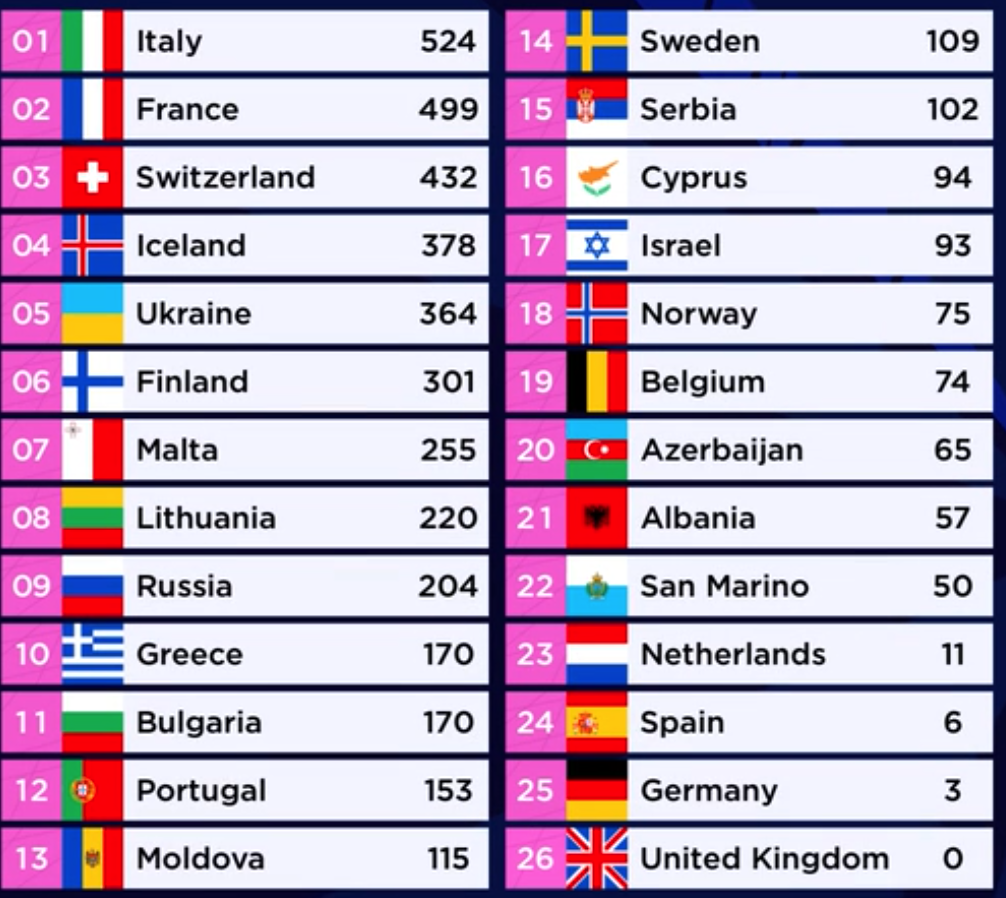 After their big win, there was a controversy with viewers about a video that supposedly showed the lead singer of Måneskin taking drugs, yet after voluntarily saying they would do a drug test, the rumours were challenged after it came back negative as many expected. The lead singer commented that they were merely picking up broken glass off of the floor and the video does not explicitly show anything to do with drugs.
Next year, Eurovision 2022 will be held in Italy and hopefully next time the UK can get a better score than this year! The only way is up… or so we think!