The Second Sea Lord's Visit – Adam Warren
Last Tuesday saw the visit of the Second Sea lord, Vice Admiral Tony Radakin. A visit that for many probably seemed relatively insignificant apart from the usual pause to watch another helicopter land and leave again. However the visit was both significant and actually very interesting. The Second Sea Lord & Deputy Chief of Naval Staff is responsible for the delivery of the Naval Service's current and future personnel, equipment and infrastructure, which by definition places him as responsible for the school, from the Royal navy's point of view.
Vice Admiral Radakin ha had a long and distinguished and fascinating career;
Commissioned in 1990, his early sea service which incorporated security duties in the Falklands, NATO embargo operations in the Adriatic, as well as escort duties in the Iran/Iraq Tanker War, and countering smuggling in Hong Kong and the Caribbean.
Commands have ranged from Lieutenant to Rear Admiral of ashore, afloat and international forces. This includes HMS Blazer and Southampton URNU, HMS Norfolk, the Naval Training Team in Iraq (where he was awarded the Bronze Star), the Iraqi Maritime Task Force, Portsmouth Naval Base, and Commander of UK Maritime Forces and NATO's High Readiness Maritime Component Commander.
It also encompasses commanding in Iraq on Operation TELIC three times as a Commander, Captain and Commodore. These Operational commands have been followed by a series of Staff officer commands, most recently in March his appointment as Second Sea Lord and Deputy Chief of the Naval Staff in March 2018.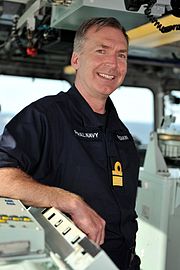 Vice Admiral Tony Radakin
From the parade Square, Vice Admiral Radakin was escorted to the front of School where Holly and I were fortunate enough to take him on a tour of the campus. Unlike many Staff officers I have met from my Dad's work, Vice Admiral Radakin was genuinely interested in the school, in us and in what we were doing and everyone we met on our travels during Period 2 on a Tuesday. His visit included a series of further meetings and talks and I was then at Lunch, alongside all the senior prospect Royal Naval and Royal Marine pupils where we discussed career choices and paths into the Services.
The Second Sea Lord's visit was very important to the School given it's fame for being 'the cradle of the Navy' and I would like to thank all of the RHS community who encountered the Vice Admiral during his visit who mentioned to me how he loved the attitude and atmosphere of the community at RHS.