RHS terms and abbreviations – Georgia Folkard-Smith
Continuing the theme of Anson Year 12s introducing new pupils to the weird and wonderful ways of RHS, Georgia Folkard-Smith initiates new pupils to the quaint, slightly peculiar, lexicon of The Royal Hospital School.
I have compiled a list of words and phrases which have caused some confusion for new people when first starting at RHS, which seem so natural to those of us who have been here for what seems like forever (Note: they may possibly not be exclusive to RHS):
The DH – Dining Hall. A place where brave Nelson 'lads' try to infiltrate the staff-student divide by sitting at round tables – even though it's impossible to hear what the person opposite you might be saying.
Divvies – Divisions (it's the marching we do around 'the Paradey').
Paradey – the Parade Square.
Civvies – Civilian clothes (normal, home clothes). Usually Jack Wills or alternative pseudo-fashionware.
Schoolies – School uniform. Not small fish.
Number 1s – Divisions uniform.
Gidge – the cap you wear for divvies
Oxing – cutting in front of someone in the line (against the rules, completely out of bounds to younger pupils). Soon to be obsolete, as this NEVER happens anymore. If it does, tell a prefect; unless it is a prefect you see doing it.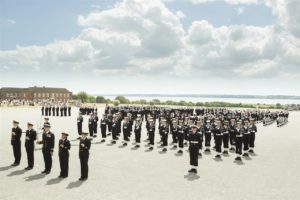 PART TWO
Mess – a term used to refer to any meal at school (primarily lunch).
Congo – Congregational Practice (where we just sing a lot on a Saturday morning – take advantage!). Once known as 'Cagga-Pragga.
Stores – the place you will be sent to be fitted with your Number 1s (Note: NOT CCF Stores, they are different)
Headie – the ever-present force of positivity and goal-setting; our leader, the Headmaster
Matron – the most helpful person in the house (seriously, they are a huge help and you will miss them when you leave).
SHS – Senior House Staff (not essential, but your house mistress/master might refer to their little gang in this fashion).
Jobs – given for a minor crime if, for example, you're late for meeting, miss meeting for no good reason, late for sign-in, minor misbehaviour in house (e.g. emptying dishwasher, watering plants, hoovering, emptying bins).
Skirmish – clearing up rubbish when told to by housemistress/master outside in the area assigned to your House (e.g. Anson's is around the Chapel and front of school).
Being gated – Only time you're allowed to leave the house is for lessons, after school clubs or meals (also must wear uniform until it's time to get ready for bed). Since most people now live in the world of the iPhone, this punishment has lost its sting.
Duty House – the house which carries out duties such as setting out chairs for Assembly. In other words, RHS' answer to zero-hours contracts.
The Resi – Alton Water (the big reservoir behind the teachers' houses; also where RHS pupils sail a lot).
LOBS (Look Out Boys Sailors) – a warning yelled when a teacher is approaching to warn those who will get into trouble if caught (not commonly used anymore).
Prep – posh word for homework. Not always so poshly completed – particularly in male boarding houses.
The Burns – the Burns Recital Hall, located in the Music School. Karaoke hub.
The Old Music School – the block next to/behind the Health Centre where Psychology and Economics classes are held.
The Jellicoe – The Jellicoe Room; the smaller room attached to the DH with the big painting over the door of Admiral Jellicoe (although it supposedly looks more like Mr. Hardman).
Exeat/Leave Out – the weekend which is meant as a small break in the middle of a half term; currently, for Years 7&8 that means you get to go home on the Friday evening and return on the Sunday night/Monday morning, and for all other years the weekend is the same, except there is no Chapel on Sunday evening.
Flexi prep (only for seniors) – awarded to those who (based on their reports) are seen by their tutors and housemistress/master as being capable of doing their prep in their own time; i.e. instead of doing prep in the evening, you can watch a film, bake, eat, etc.. Often the granting of such lasts a single half-term, before being unceremoniously revoked.
Lairy – something which older pupils call younger pupils if they are being rude, disrespectful or just downright cheeky.
Feel free to add any more!