PSHE Book Reviews – Various
First things first, this is my favourite book. Ever. And I feel qualified to start a book review with that because I read a lot, more than I should. Rainbow is a fantastic author and that is something most YA contemporary fans agree on, but people were intrigued when she announced that she was releasing a fantasy book, especially since- as we learnt from Fangirl– it is extremely similar to Harry Potter.
A brief synopsis of Carry On would be reading any YA fantasy with a 'chosen one' main character (Harry Potter), a school setting (Harry Potter) and an arch-nemesis (Harry Potter). And that isn't even a criticism because there were so many flaws in Harry Potter that you don't even notice until you read Carry On, it has the vibes of a corrected version but gayer. Without spoiling the plot it takes the classic trope of a fantasy with the 'chosen one', his trophy girlfriend and the snarky-pain-in-the-butt-sort-of-enemy-sometimes-but-not-friend-ever character, and flips it in its head.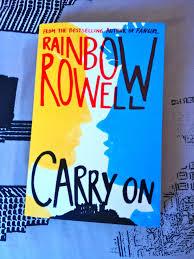 The book also takes an honest look at teen relationships, especially gay ones, without the 'perfect relationship' or absolutely tragic gay relationships the Hollywood portrays. There are characters that are definitely non-white, unlike other books where characters ethnicities are not clearly stated which has lead to a lack of darker skinned characters in books and media in general. It's also refreshing to have gay characters that have purpose outside of that box, they aren't just there to diversify the company or for comedy purposes (Teen Wolf, where did Danny go?). Sexuality is treated as something that isn't important, in a good way, as long as the characters are happy, their friends are happy.
Something that I found extremely awesome was the way therapy is treated in the novel. Therapy is not only acknowledged in a positive light but actually encouraged, helping to remove some of the stigma that therapy has accumulated. When has Harry Potter spoken about his feelings after battles? Are other book characters immune to PTSD? Having a book character who is a hero and seeks help is great and is wildly reassuring to people who are scared of seeking help.
I recommend this book to anyone as aside from these things it's a really great read and amazingly funny also there are actual creatures called Numpties. It's amazing. But don't take my word for it, read it and if you love it talk to me about it so we can fangirl together. If you hate it I don't care.
Eloise Best
---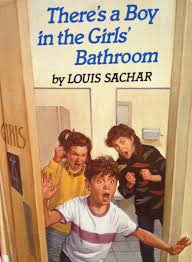 'There's a boy in the girl's bathroom!'By Louis Sachar
 Book report written by Ben Warren, Drake, year 7
About the book:
'There's a boy in the girl's bathroom' is a popular book by Louis Sachar based on a boy called Bradley Chalkers. Bradley is a bully, and is very unpopular in his school. Bad grades and a habit of lying, he is loathed by both pupils and teachers. Until Jeff Fishkin arrives. Jeff comes from California, and is determined to make Bradley a bettering person. This starts to work and fails, starts and fails, and this keeps on happening, until Jeff gives up. But Carla doesn't. Carla is a young lady that gives children counselling, and is determined to make Bradley nice. During this, all sorts of funny and hilarious incidents happen, which is where the name "there's a boy in the girl's bathroom!" comes from.
What I thought:
I think that with every book, there are people that like and don't like it. Everyone is different, and books are a matter of taste. I however loved this book, with it's funny twists and turns, but it also shows you what the bully is feeling, and how he is a nice person. If I have recommended the wrong book, I'm sorry, but I truly enjoy this. It's a funny book with lots of small, funny stories, and it is a great page turner if  you are bored. This book shows you about bullying, emotions and gender separations, so as well as a fun story, it is also a book that teaches you something, without you realising.
Other books by Louis Sachar that I would recommend:
Holes
Small steps
The boy who lost his face.
All of these are funny books, but they all teach us something: that mistakes can be made, that things can disappear, and that things do go wrong sometimes.
I hope that this book review has made you choose 'There's a boy in the girl's bathroom!'
---
Geek Girl by Holly Smale was first published in 2013 and has had 3 novellas, and 4 pther books in the series. Geek Girl focuses on the life of Harriet Manners and her friends. Harriet is a full on geek and is struggling to work out why everyone in school seems to hate her apart from her best friend Nat and her stalker Toby. At a fashion week, (of which she is reluctant to attend) Harriet is spotted by Infinity Models, a modelling agency. In a desperate attempt to become popular and make an improvement on herself she is sent on a whirl wind with her friends, bullies and the fashion world.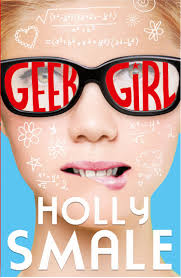 I would rate Geek Girl 5 stars with ease. Of course it is your own opinion if you do not like this sort of series, but I would recommend it to everyone who is a teenager. It is an incredible easy and light hearted read and you will find yourself reading chapter after chapter. Geek Girl is incredibly hilarious and heartwarming with incredibly funny entries and brilliant wisdom. Harriets life is so hilarious and a mess you can't help love her and sympathise for her. Geek Girl teaches us the importance of being yourself, the value of friendship and how to view ourselves in the world. I would recommend deeply to anyone who is in a bad mood and needs cheering up!
E Forrester