'The Huntsman: Winter's War' – reviewed by Georgia Folkard-Smith
*WARNING: This will undoubtedly contain spoilers*
There's rather a lot of debate about whether this film is better or worse than the previous
Huntsman film (the one with Snow White) that came out in 2012, and there are some clear differences between them which have resulted in such a discussion.
The mighty Chris Hemsworth takes centre stage in this year's sequel (and sort of prequel?), as Eric the Huntsman, with Snow White only appearing in a single scene and seemingly going a bit crazy in an attic. However it does seem appropriate for this to be the case as the story focuses at first around Eric's past in the freezing north, a land not controlled by Ravenna (Charlize Theon), the Evil Queen who was supposedly vanquished by Snow White, but instead her sister, the Ice Queen Freya (Emily Blunt).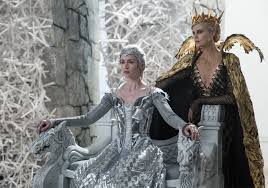 There are some reviews which claim to be confused by the time line of the movie and I agree that some viewers may be slightly confused if they haven't seen 'Snow White and the Huntsman', but I think that the gist of the original can be gathered from just the brief encounter Eric has with Prince William (Sam Clafin) as well as Ravenna's screaming at the end about how she will destroy Snow White (although I still suggest you go and see 'Snow White and the Huntsman' before this film). But the point to this film is that it has nothing to do with Snow White, indicated by it's title, but instead seeks to answer the many questions about the Huntsman that arose from the 2012 film, as his past was barely ever touched upon, apart from the brief comment about his wife being dead. So, without spoiling it explicitly, the only thing we know about the guy is his name.
You could say that we also know that he is the Huntsman, but I must correct that and rephrase it: he is a Huntsman. One of the surprising things revealed is that there are in fact hundreds of Huntsmen and women who form Freya's army, trained from children after they are taken from their families to her magnificent ice palace. After being left heartbroken and childless by the one who she thought was her soulmate (Colin Morgan, if you can believe it), Freya has one law: Do not love. In her mind it is weakness, so when her two best soldiers, Eric and Sara (Jessica Chastain) fall for each other she is keen to drive them apart which leads to Eric becoming the lone Huntsman in Ravenna's land, and then in Snow White's kingdom as well.
That is until he is tasked with the job of finding the famous golden 'mirror, mirror, on the wall' which was stolen whilst being transported to Sanctuary (a place which is never shown or described further that it's name, which is frustrating). And what sort of Snow White related (kind of) film would be complete without dwarves? Hemsworth already has a much better sense of wry humour compared with the last film, but Nion (Nick Frost) and newcomer Gryff (Rob Brydon) add the real comic element to this film, especially when joined by two female dwarves Pippa (Sophie Cookson) and Daureen (Alexandra Roach). Brydon and Cookson bounce off each other quite successfully.
With the interesting interpretation of goblins, Freya's huge polar bear and the mirror spilling out a surprise at the end, the visual effects really are one of the most impressive things about this film, which is hardly surprising given that it's a speciality of the director, Cedric Nicolas-Troyan, who was also the special effects supervisor in 'Snow White and the Huntsman'. Another incredible feature were the outfits, particularly those worn by Ravenna and Freya; apparently there are people who complain that there wasn't enough time to appreciate them, as if the costumes are a huge part of the plot. But nevertheless, they are spectacular, especially due to the contrast in colours and designs.
That doesn't seem to be the only conflict between the two sisters. Whereas in 'Snow White and the Huntsman' Ravenna seems to be pushed to be evil due to her experience as a child, the prequel part of 'The Huntsman: Winter's War' indicates that she now enjoys being evil, or at least sees it as an essential part of herself. Freya, on the other hand, is presented as gentle and caring, who doesn't share in her sister's magic until that fateful event forces her to become the Ice Queen. However this leads me to question whether or not Freya is fundamentally evil, as I believe Ravenna to be. She seems more like someone who has been broken enough to believe what she's doing is for the greater good, no matter how harsh and selfish it seems to others. I believe this comes across in Freya's ice palace when the two sisters are with each other; Ravenna seems hellbent on taking advantage of Freya's naivety when it comes to her. That's the difference between them: Ravenna just wants revenge, but Freya wants to make sure no one can ever be heartbroken again. And I think there's a certain amount of realisation and conflict within Freya herself towards the end, rather than her and Ravenna being at war throughout the whole film (which would be difficult since Theron is only on screen for about a total of twenty minutes), which I was led to believe by the trailer.
The trailers were a major source of complaint from many reviews; they indicated that Theron would have much longer screen time; it clearly put across the this was going to be a prequel, not a sequel. I agree with these complaints. It clearly states in the trailer "The story before Snow White", yet most of the trailer features the plot after Snow White, and Theron is a star in the trailer, but only appears at the beginning and end of the film. However, her performance is excellent. There are only a few other minor issues which I don't like about the film. One is the fact that Liam Neeson (who I can only assume is the narrator) goes uncredited, but then again, his voice is so well-known that I suppose he doesn't even need to be pointed out.
Secondly, there is a major issue surrounding Ravenna's sibling situation – didn't she have a brother in the previous film? Where is he in this film? Where is Freya in 'Snow White and the Huntsman' when Ravenna talks of her past? Or was that just made up? Was he actually her brother or just a loyal follower who Ravenna brainwashed so he wouldn't spill her story? Why was there no mention of the Ice Queen (Ravenna's not-exactly-innocent sister) to Snow White? Sadly, though, I do not have answers to these questions, so they'll have to remain out in the open. Lastly, and this might just be me, but the lack of the full dwarf group upsets me, although I'd also like to point out that maybe it's a good thing that they didn't all feature – there'd be just too many of them.
But overall, I really enjoyed the film – a perfect mix of fantasy and action with enough romance to be expected but not too much to be sickly. I think both Hemsworth and Chastain adopting apparently dodgy Scottish accents for the roles adds to the humour, if anything, and I disagree with critics who say that the plot isn't clear enough. It is an incredibly well done piece of screen play in my opinion and worth a watch.
Did you know?
The film was originally intended to be a sequel to 'Snow White and the Huntsman', but it was decided that it would instead focus on the past of the Huntsman rather than Snow White. There was widespread speculation that this was because of Kristen Stewart's affair with Rupert Sanders (the previous film's director), but this was denied by Universal Pictures.
Apparently Emily Blunt was offered the role of Natasha Romanoff/Black Widow by Marvel in Iron Man 2 (2010), but had to turn it down due to a commitment to 'Gulliver's Travels' (with Jack Black), and it was then offered to Scarlett Johansson.
Chris Hemsworth is well-known for playing the norse god Thor in the Marvel films, but it's interesting to note that Blunt's character Freya is also named after a norse goddess. Freya is associated with love, magic and death. According to legend, she was married to the god Odin, who vanished one day. Freya searched the entire world to find him, gaining a new name in every land she passed through, but was unable to find him again. The heartbroken goddess cried tears which became gold, and her experience made her particularly sympathetic to lovers, the complete opposite of how Freya in this film reacted to heartbreak.
Both Hemsworth and Charlize Theron were both paid just over $10,000,000 each for their roles. Theron was originally meant to be paid less (which would make sense since she's not in the film for as long as Hemsworth), but refused to sign on to the film unless she was paid the same as her co-star.
The film was mostly shot in England, with locations including Waverley Abbey in Surrey, Windsor Great Park, Wells Bishop's Palace, Wells Cathedral and Puzzlewood in the Forest of Dean.