The Teen Whisperer, John Green – Zofia Moritz
He gets called many names: the teen whisperer, the voice of a generation, a teenager in an adult's body, or sometimes, simply, nerd. John Green is a young adults' author, most known for his novel 'The Fault in Our Stars', which was adapted into a film in 2014, which became a box office hit.
As well as being a successful novelist, Green is well known as the co-producer of the channel "VlogBrothers" on YouTube, alongside his brother Hank Green. The duo also helps students with  school work via their second, educational channel, "Crash Course".
However, what was it that influenced Green's career growth so significantly? Was it his imagination and creativity when it comes to presenting characters so realistically that it's almost painful? What makes his writing so appealing to the so-called generation of millennials?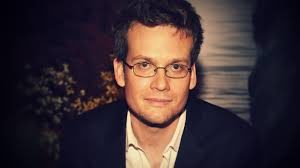 From my own experience they make the reader feel as if they have not lived their life excitingly enough; even the character of Miles from 'Looking for Alaska'- the supposedly normal teenager, has thoughts and ideas that are truly authentic whilst his experiences are far from ordinary, and therefore have a strong impact on the reader.
Green seems to specialise in the personalities of his characters; throughout all of his books there seems to be a certain system: there's the archetypal 'boring and normal' (by the standard of the worlds featured in Green's stories) white male teenager; and the wild, exciting and incredibly creative teenage girl, who the guy invariably ends up infatuated with. The only exception is 'Will Grayson, Will Grayson' which was co-written with David Levithan, where the both characters are male and could be perceived as extraordinary.
Both of the character types have approximately two dominant traits and hobbies, which the novels tend to focus on, such as Margo Roth Spiegelman from 'Paper Towns' having an extremely complex personality and disappearing after making her friends' lives hell one night. Another example could be Miles Halter from 'Looking for Alaska', his obsessions being people's last words and eponymous Alaska herself.
As well as that, Green likes to base his novels on poems, books, or even theatre performances, in the case of 'Will Grayson, Will Grayson'. The excerpts from the piece are usually to be found in the actions and thoughts of the main characters, the main example being the fictional 'Imperial Affliction' by Peter Van Houten which both Hazel and Augustus fall head-over-heels with in 'The Fault in Our Stars'.
The rather puzzling choice of basing his own novels on complicated poems such as Walt Whitman's 'Song of Myself' whilst targeting it at teenagers could be seen as risky. However, it is Green's positive and simply charming demeanour, as well as his inability to patronise, which is usually the basis of most young adult authors these days, towards his target audience, that the readers of his works find most appealing.
This system has clearly proven to be effective, with Green winning the Edgar Allan Poe award for 'Paper Towns', Children's Choice Book Award for 'The Fault in Our Stars', amongst many others as, according to the 'Wall Street Journal', " [s]ome credit him with ushering in a new golden era for contemporary, realistic, literary teen fiction, following more than a decade of dominance by books about young wizards, sparkly vampires and dystopia."
However there are, as always, some problematic aspects to Green's works; the fact that his novels seem to relay the message that the 'wild' girl needs the main male character in her life, and she just has to realise that. It has to be said that this point of view of the main characters is evident in Green's books. The misogynistic and racially problematic aspects were broadly criticised by the online community, most of them being women such as a book blogger Kelly Jensen, who said "[the fact that we] continue to uphold him [Green] as some Savior of YA [Young Adult] and the success which to aspire is amazingly problematic. Because it follows in the same problematic gender norms that have plagued us since forever. The cis-gendered white male is standard for best."
 Furthermore, the film adaptation of 'Paper Towns' received a substantial amount of criticism for casting a white, British supermodel Cara Delevingne in the role of canonically chubby Jewish Margo Roth Spiegelman. In response to the online outburst, Green himself emphasised numerous times that he was not the one in charge of the casting, but 20th Century Fox – who bought the rights to the screenplay in 2008.
In September of 2015 Green announced that he was taking a social media hiatus in order to work on his latest novel.  The title is yet to be announced.