Ipswich Town's rise to the Championship: What took them so long? – Isabel T
Following Ipswich's 6-0 win against Exeter City in April, this ensured their promotion to the Championship from their comfortable position in League 1. After a lengthy 4 years since their return to the Championship, what was the reason for this delay? Managers? Fans? Players?
Having a brother ensures that I am well updated (often without asking) about current football events. If you, too, have a brother, I am sure he is equally infatuated with football as well, therefore providing extensive knowledge that not even BBC could compete with. We will hear his professional opinion and justifications for their delay in promotion after a report on Ipswich's match that solidified their place.
The Tractor Boys started their sold-out match with a secure four points ahead of Sheffield Wednesday (placed third), leaving the team confident of their reach to the Championship, as long as they secured a win over Exeter City. Playing at their home ground, Portman Road, enhanced Ipswich's performance, leading to Ipswich scoring 5 goals within the first 32 minutes of the match. Goals came from Massimo Luongo, (Loanee) George Hirst, Nathan Broadhead and top scorer Conor Chaplin, adding 2 goals before the half time whistle. After the 45 minute mark, Wes Burns totalled the score to 6-0, allowing Ipswich to cruise to the Championship next season. Despite Ipswich's draw with Fleetwood Town during the last match of the season, Plymouth were crowned champions of League 1, despite this, both teams secured their place in the Championship.
Manager Kieran McKenna, is only in his first managerial position after previously coaching for Manchester United. McKenna has been praised as a catalyst for Ipswich's success following Paul Lambert and Paul Cook's 4 season League 1 consistency. McKenna's managerial position in 2021 meant that Ipswich lost only 4 out of 24 games last season, a significant improvement for this season's success.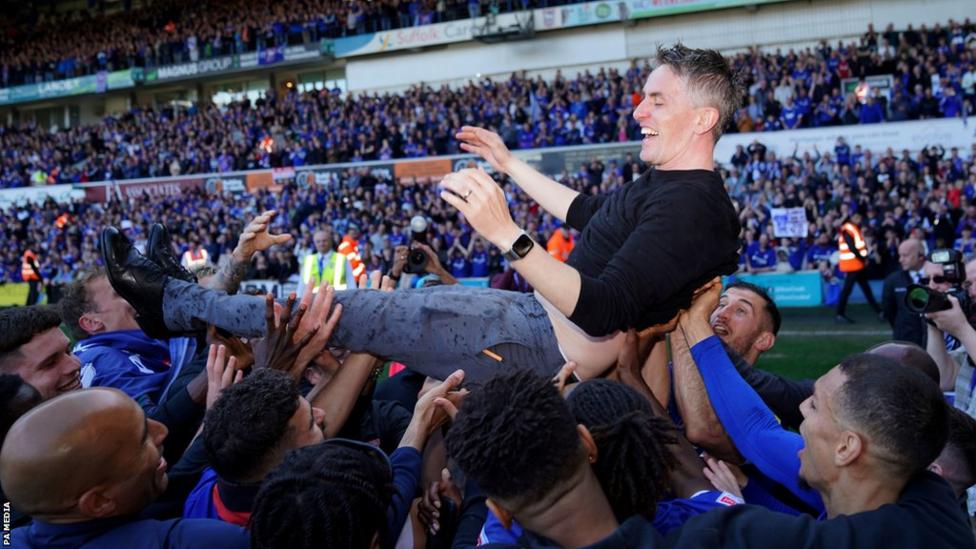 Introducing my brother, James T, I ask him for his own opinions on Ipswich Town's success and the reasons for their past-due promotion:
'McKenna joined halfway through last season, made consistent improvement to their performances. He made great decisions in terms of signings during the summer, including Leif Davis, a new left back which provided them with many goal contributions and became League 1's top assister.'
'McKenna changed the style of play to a more free-flowing and attractive style, which encouraged fans to attend more games and sent attendance rates rising and boosting morale within the stadium. The Ipswich Town supporters backed their manager and players with huge belief of returning to the Championship for the 23/24 season.'
'I think the style of play used by Lambert and Cook didn't challenge opposing teams as much as McKenna's does, Ipswich were timid to attack forward and were too comfortable in defence, and lacked the attacking threat to push them up the League. Past players didn't match the quality of the promotion-pushing teams, they lacked energy, creativity and effort.'
'I predict that next year, they will have a strong season back in the Championship, surviving relegation and potentially even challenging for a play-off spot. This depends on the Summer transfer window, improving Ipswich Town's squad depth and potentially bringing in Championship proved players and keeping their current star players from the 22/23 campaign.'
This season showed Ipswich Town's improvement, scoring the most goals and conceding the fewest. Let's hope it continues next season!