A Day With RashDash Theatre – Amelia Potter
Saturday 13th of May saw a bundle of fun in the drama studio. The two woman performance company, Rashdash, came up from London to give the drama class of year 10 an absolutely jam-packed, and influential day. Rashdash, described by 'The Guardian' as 'the punk princesses of late night theatre' are a vibrant young theatre company who have won multiple awards at the Edinburgh Fringe and produced teaching videos on devising for the National Theatre. Having met the two talented members of RashDash Theatre, early in the morning, we got to spend the whole day with them, involving ourselves in exercises leading to the clever creation of dramatic art towards the end of the day.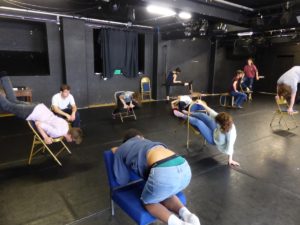 From the first introduction to Abbi and Helen, we knew it would be a fun day. Their advice and guidance was taken on board by all. At the start we all participated in games to loosen up and it was really valuable as they were all inclusive, resulting in increased confidence and knowledge towards each individual in the group. We all became a team. This lifted our spirits and when the first third of the day was done, I'm sure I can speak on behalf of the class when I say that we were all looking forward to the next.
The late morning session also involved laughter-provoking games and fun throughout. However, following this we did go on to some more observational work, such as trying to replicate the walks of others in the group but in exaggerated ways. This saw a great atmosphere in the room as we all joined in the humour of each other's unrealized traits.
After a quick break for lunch we all returned to the studio to pursue the last part of this brilliant day. In my opinion this was the best part. Our expectations were reached as our work excelled in the creation of our final piece. This was a more intimate combined piece as we were put into pairs to create our rewarding last performance where we all combined together following the guidance of Abbi and Helen.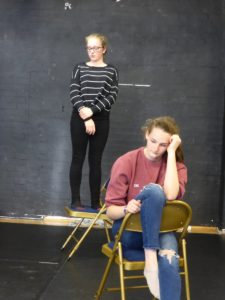 Ultimately, the whole day was a rewarding challenge. Abbi and Helen were not only inspiring but succeeded in connecting with each individual giving us valuable advice. They were friendly and always encouraging. This made us all feel very comfortable to enjoy the day they thoughtfully planned for us. I'm sure I can speak on behalf of the whole class when I say that we would love to see them again and we have all left feeling inspired and incredibly grateful of the presence they brought and the art they formed in us.
Amelia Potter