Staff Spotify Wrapped – Emi S
Mr Coventry: honestly, this is exactly what I expected – obscure songs and strange album art, keep it up Mr Coventry.
'My Spotify wrapped is not very interesting I'm afraid, mostly music I've been forced to learn for a terrible cover band I was part of this year. I could lie and give you my real listening habits but I'll avoid being a full on hipster and just show you the actual list. See the attached garish image.'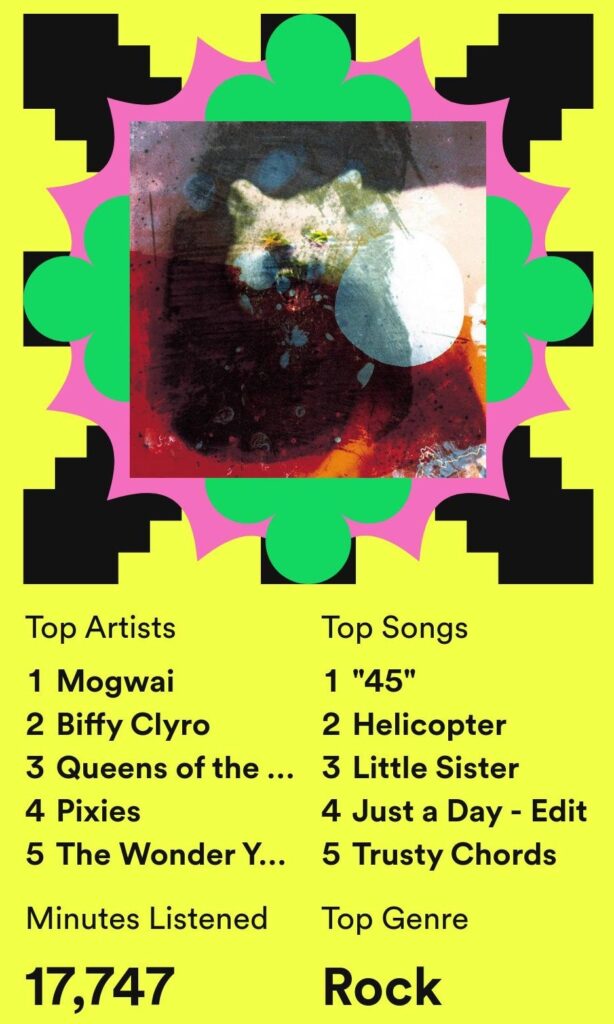 Mr Coleman: surprising throwback to the sixties, nevertheless I appreciate it.
'My most listened to artist is Muddy Waters – This will come as no surprise to anyone in my house (perhaps it's why they bought me headphones last Christmas).'
Top 5 tracks:
Mannish Boy by Muddy Waters
Kashmir by Led Zeppelin
The Sky is Crying by Elmore James
Feeling Good by Nina Simone
Country Girl by Carolina Chocolate Drops
Mrs O'Callaghan: somehow I feel as though Mrs O'Callaghan's Spotify represents her style perfectly.
'Hmmm…well now I feel embarrassed. My top artists this year was Taylor Swift. Please see my Spotify wrapped Top Five below, but before you look I'd like to explain…I tend to have a habit of listening to a song on repeat when I like it.'
'no. 1: I am not a Harry Styles fan, but this is a really good song! – I don't think I know anything else he has ever done'
'no. 2: the 'Cagney and Lacey' theme tune (https://youtu.be/iMB_cwgy6mY) is my go to tune when I need to get work done e.g. writing reports. I put on headphones and put the tune on repeat, it has a good tempo so keeps me going but also doesn't distract me like a song would.'
'no. 4: great song from a great movie – I am not embarrassed of this choice at all'
Top 5 tracks:
As It Was by Harry Styles
Cagney and Lacey by Daniel Caine Orchestra
Belter by Gerry Cinnamon
I Ain't Worried by OneRepublic
Joan of Arc on the Dance Floor by Aly & AJ
Top artist: Taylor Swift
Ms Nicholls:
'Not sure what this says about me.' – don't worry miss, you've escaped the psychoanalysis – for today..
Top Artists:
Sufjan Stevens
Nick Cave and the Bad Seeds
Wolf Alice
Metronomy
Teleman
Most listened to song: Mystery of Love by Sufjan Stevens
Mrs Barber: somehow, this is exactly what I expected from Mrs Barber, being an art teacher.
Most listened to artist: Sam Fender
Top 5 tracks:
Seventeen Going Under by Sam Fender
Falling Asleep at the Wheel by Holly Humberstone
Guys by The 1975
Piano Man by Tom Odell
Nabokov by Fontaines DC
Mr Roe: extreme lack of Horrible Histories songs 🙁
Most listened to artist: Leon Bridges
Top 5 tracks:
Texas Sun by Khruangbin & Leon Bridges
10/10 by Rex Orange County
Spit Of You by Sam Fender
TOOTIMETOOTIMETOOTIME by The 1975
Wake Me Up by Foals